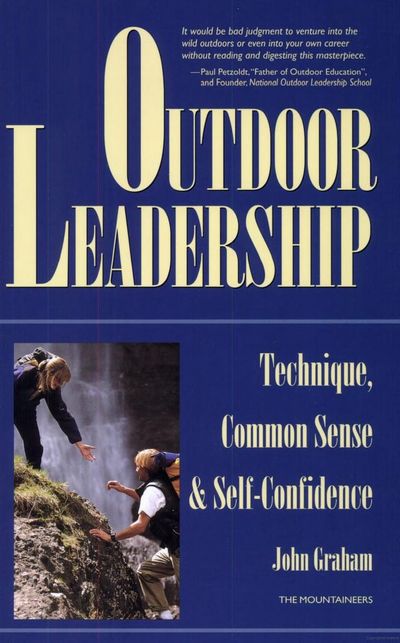 Outdoor Leadership
Technique, Common Sense & Self-Confidence
"It would be bad judgment to venture into the wild outdoors or even into your own career without reading and digesting this masterpiece." —Paul Petzoldt, Founder, National Outdoor Leadership School
"Outdoor Leadership's discussion, advice and techniques for learning and improving leadership skills will prove invaluable to anyone, hard-core mountaineer or not, in the outdoors or any other part of life. This book is so good I will strongly recommend it to all my staff and friends. A real gem." — Gary Neptune, owner, Neptune Mountaineering
What does it take to be a good leader, especially in outdoors situations that can get both complex and stressful? Yes, good leaders must plan effectively, hone technical skills, make tough decisions and deal with conflicts. But they must also develop trust, communicate with sensitivity, and balance intellect with intuition, head with heart.
Outdoor Leadership is a practical, readable guide to the skills, attitudes, and inner resources you need to be an effective leader, at whatever level you are called to lead, in the great outdoors or in your own office, community or family.
The book covers all aspects of leadership, including
forming a personal style,
finding courage,
making decisions,
communicating effectively,
resolving conflicts,
building teams,
coping with stress and
inspiring others to be at their best.
Separate chapters discuss women in leadership, running organizations, and forming and leading political initiatives, for example, on environmental issues.
As a seasoned mountaineer with thirty years' experience as a leader and crisis manager all over the globe, I draw on my personal experiences throughout to provide insight into real-life leadership situations. Sidebars by a variety of noted outdoor leaders, including Lou Whittaker, Sharon Wood, Royal Robbins and David Brower, offer further inspiration and insight.
While the examples given focus on the outdoors, the lessons in this book can apply to any life situation. Use it to lead a company work team, organize an event or campaign in your community, or guide a family beach walk in the rain. Leadership issues crop up in all aspects of our lives—expect this book to affect more than your next hike in the hills.