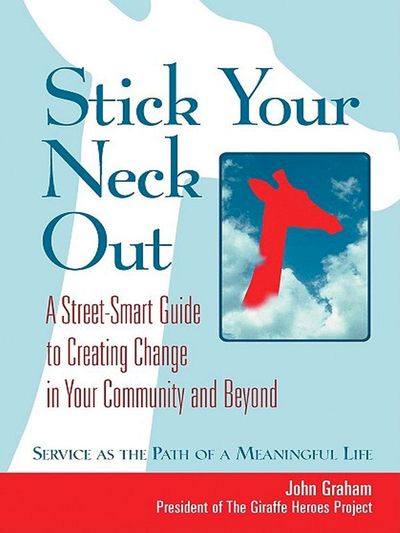 Stick Your Neck Out
A Street-Smart Guide to Creating Change in Your Community and Beyond
"Practical suggestions focusing your talents and ideas to help create the changes you desire." — Millard Fuller, Founder and President, Habitat for Humanity
"Read this book and come alive." — Vicki Robin, Co-founder, Let's Talk America
"Superb book for those who want to take active steps to bring change in their community." — Edward Peters, Exec. VP, Initiatives of Change
Filled with practical tips and inspiring examples, this book is the missing link between ideals and action.
In this book, I draw on my own extensive experiences as an activist and negotiator, and on over thirty years of leading workshops for the Giraffe Heroes Project that have helped communities, cities, organizations, and individuals deal with challenge and change. Stick Your Neck Out is based on those experiences as well as the experiences of many others.
Topics covered include choosing an issue, mapping out a plan, creating a vision of success, organizing a team, building trust, resolving conflicts, working with the media, moving through bureaucracies, setting legal strategies and more. All the ideas and suggestions in this book have been thoroughly tested in the real-life situations described—including pratfalls and missteps that form a learning curve.
Sidebars tell the inspiring stories of problem-solvers and activists from all walks of life honored by the Giraffe Heroes Proejct. All have "stuck their necks out" to make a difference on issues large an small, from poverty, gang violence, and pollution down to interfamily squabbles and work conflicts.
The book is anchored in three key ideas:
Courageous and compassionate people can solve any problems and meet any challenges in their communities and in the world.
The surest path to a meaningful life is service—acting for the common good.
The key to success on this path is balance—head and heart, trust and street-smarts, passion and professionalism, reflection and action.